** No. 1 Kindle Bestseller **
This book will make you smarter, more capable and more creative, super-fast - whatever your IQ.
Blending science, psychology and philosophy, this book teaches easy tools to make you smarter in mere minutes or seconds. The strategies include methods that geniuses use to gain insight and little-known scientific tips to boost brainpower, memory and creativity. Instant Wisdom is both entertaining and informative, interweaving personal stories, surprising studies and real examples. The book contains a variety of engaging exercises and activities. When you can boost your brainpower instantly, you will be able to solve personal problems much faster, save precious time on projects, and achieve your goals at lightning-speed.
"The Only Self-Improvement Book You Need to Read...If you read Instant Wisdom, you can skip just about every other self-improvement book out there...at least until Burgess's next book comes out."- Review by Picking Books
Title: Instant Wisdom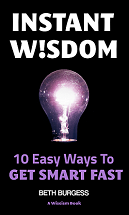 Subtitle: 10 Easy Ways to Get Smart Fast
Publishing date: 6th September 2018
Publisher: Eightball Publishing
ISBN: 978-0957321731
ASIN: B07H48B8RQ
Buy from Amazon.com or Amazon.co.uk, or your favourite book retailer.