**  Winner of a 'Best Drug Addiction Books of All Time' Award' from BookAuthority **
Are you clean and sober, but finding it hard to be happy? Are you suffering from boredom or low self esteem? Are you stuck in your old behaviours and negative thinking?
The Happy Addict is a revolutionary guide to achieving an amazing life after addiction. No more guilt and shame. No more feeling held back by the past. No more limitations.
Each chapter is devoted to helping you to let go of negativity, improve your outlook on life, and live happily and successfully in recovery.
Having worked so hard to beat your addiction, you deserve a wonderful life now. Offering the benefits of coaching, psychology and NLP techniques, this book will help you become who you were always meant to be.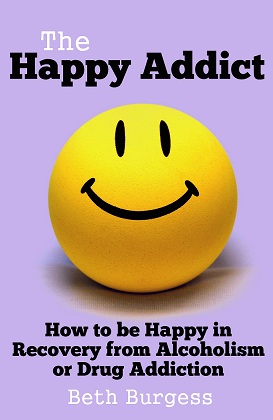 Title: The Happy Addict
Subtitle: How to be Happy in Recovery from Alcoholism or Drug Addiction
Language English
Publishing date: 3rd July 2013
Publisher: Eightball Publishing
ISBN: 978-0-9573217-1-7
Order The Happy Addict through Amazon UK now
Buy The Happy Addict from Amazon.com

 Also available as an eBook. Sorry, Russel Brand not included with any edition.